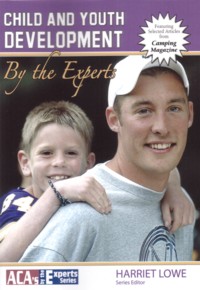 Child and Youth Development features eighteen articles that have been carefully selected from past editions of Camping Magazine, including Rites of Passage: Camp Pays Off in Youth Development, Happiness, Health, and Safety," written by SADD Chairman and CEO Stephen Wallace. The contributing writers are recognized as authoritative voices in the field of child and youth development. Produced in cooperation with the American Camp Association.
Here's an excerpt.
For years sociologists, anthropologists, and psychologists have mourned the loss of traditions marking important childhood "rites of passage." In earlier American culture, movement toward adulthood was accompanied by more ritualistic, meaningful celebrations of transition to newfound independence and responsibility to the family and community.
In an increasingly complex, dispersed, and fast-paced society, summer camp remains one of the final frontiers for young people seeking formal affirmation of advancing maturity and, ultimately, initiation into adulthood. Through structured, goal-oriented activities taught and supervised by authority figures and role models, children at camp benefit from communal observance of achievement — whether in small-group or all-camp settings.